Every One A Star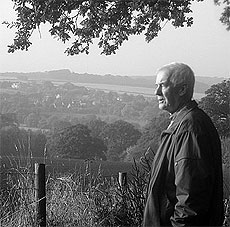 A sell-out crowd and a stellar line-up of mystery writers made the sixth Scene of the Crime Festival on Wolfe Island, August 11, 2007, one of the best ever.
This year the Grant Allen Award was presented to a much-loved and much-honoured pioneer in the field of Canadian mystery writing, Eric Wright. Mr. Wright was born in London, England and immigrated to Canada in 1951. He is the award-winning author of seventeen crime novels including The Night the Gods Smiled, which won the Arthur Ellis Award for Best Crime Fiction Novel in 1984. He won the award again in 1986 for Death in the Old Country. His venerable detective, Charlie Salter is a favourite of Canadian readers but Eric Wright is just as adept at writing mainstream fiction and non-fiction as well.
Eric Wright's hugely popular memoir, Always Give a Penny to a Blind Man, published in 1999, was nominated for the Charles Taylor Prize for Literary Non-Fiction. Mr. Wright generously brought along enough copies of the memoir to hand out to participants at the festival.
His most recent novel, Finding Home, has already begun receiving accolades. Of it, Reginald Hill says, "To start with, this is the involving story of a man on a voyage of discovery, both about himself and his family, with lots of clever twists, well drawn characters, and frequent chuckles along the way. The bonus is that Canadian readers get a nicely observed if sometimes idiosyncratic picture of modern England, while English readers get the same of Canada, with some fascinating historical sketches thrown in. If that's not enough, all readers can sit back and enjoy the occasional highly entertaining rant. Eric Wright is such a very good writer that nobody should be surprised to find he's a very good ranter too!"
Interviewed at the day-long festival by a Scene of the Crime Festival founder, Therese Greenwood, Mr. Wright described his writing process. "I sit and stare at the back of the garden until the characters appear and then I watch to see what they do." Excellent advice for writers of any genre!
Sharing the spotlight with Eric Wright were five other well-known crime writers, listed here in alphabetical order:
During the author readings, Giles Blunt kept the crowd laughing as he read an exerpt from The Delicate Storm wherein his series detective, John Cardinal, confronts Wudky, or the "World's Dumbest Criminal." This otherwise serious novel won an Arthur Ellis Award and Macallan Silver Dagger in 2004. His latest book, By The Time You Read This, was declared the best mystery of 2007 by the Globe and Mail.
During the "Location, Location, Location" panel discussion, Peter Clement, author of the best-selling Earl Garnet medical thrillers described his reasons for setting the books in Buffalo, New York. He had originally located them in Montreal but his American publisher thought Canada wouldn't sell in the U.S.A. so he looked around for an American substitute. "As well as the obvious weather similarity, Buffalo shares many features with Monreal, including a subway system, which not many people know about." Peter brings twenty years of experience as an emergency-room physician to his writing. His latest novel, Mutant, comes out in December 2007.
Lyn Hamilton, the author of a successful series of archaeological mysteries published by Berkley in New York, was asked during the panel if she was as peripatetic as her heroine, Lara McClintoch who travels the world in search of rare artifacts (and finding murder along the way.) Lyn admits to having wanderlust and described some of her adventures finding the perfect foreign settings. Lyn's novels have been nominated for many international awards and The Celtic Riddle fromed the basis for a 2003 episode of "Murder, She Wrote."
Mystery Writers of America's highest honour, The Grand Master Award went to Edward D. Hoch, of Rochester, NY for good reason. The author of almost 950 published short stories has had a story in every issue of Ellery Queen's Mystery Magazine for the last 34 years. The Private Eye Writers of America honoured him with a Lifetime Achievement Award a few years ago. When Ed was asked how he came up with so many varied plots and ideas, he admitted to poring through newspapers. Some of the things reported by the media are too over-the-top to be believed in fiction, he said, but he can glean ideas from them none the less.
It's hard to keep up with Maureen Jenning's meteoric career. It seems that she hardly finishes a novel before it's optioned for film. A new 13-episode series called "The Murdoch Mysteries" will premier in early 2008 and now her second mystery series featuring Forensic Profiler, Christine Morris has been optioned by Shaftesbury Films. Maureen and her husband combined Scene of the Crime Festival with a summer holiday at the beach in Prince Edward County.