2011 Outreach To Wolfe Island Students

SHORT STORIES WIN PRIZES AT WOLFE ISLAND SCHOOLS
Betty Doyle and I had another great creative writing project with the grade six, seven and eight students from Marysville Public School and Sacred Heart Separate School. This year Sacred Heart's Adam Geris brought his students over to Tom Richard's class in Marysville, so that we could use their new Smart Board. What a lot of fun that was for me, and what a great idea it is. I only wish I had one at home! Once again we had three ninety-minute sessions to help the students with plotting, revising and polishing their short stories. I was particularly struck by the great titles the students came up with. Of course we're getting students repeating from previous years, but both Betty and I agree that's not the only reason for the impressive quality of the stories. These students really put in some hard work. Oh yeah, and Mr. Geris and Mr. Richards weren't too shabby either.
Here are this year's prize winners:
First prize of $25.00 went to Derek Posthumus of Marysville School, for "Lost in White"
First prize of $25.00 went to Quentin Brown of Sacred Heart, for "Trapped"
Second prize of $15.00 went to Margaret Avent, of Marysville, for "Candyland"
Third Prize of $10.00 went to Angus Merry, of Sacred Heart, for "Hunted"
There were also five honourable mentions, Aisling Beers for "Sisters of the Key"; Isabelle Little for "Break, Breaking, Broken"; Natalie Moodie for "Never Forget"; Emma Creighton-Ivimey for "My So-Called Friends" and Gavin Rixten for "Little Runaway". These students received books as prizes.
And so that all the students could continue to enjoy themselves, Scene of the Crime donated a collection of mystery books to both schools. We'd like to thank Scholastic Books for making our donation an extra big one this year.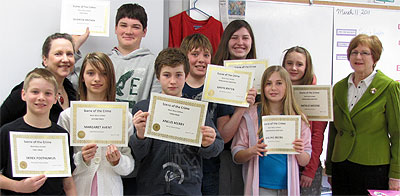 Back row: Violet Milan, Quentin Brown, Gavin Rixten, Isabelle Little, Natalie Moodie and Betty Doyle. Front row: Derek Posthumus, Margaret Avent, Angus Merry and Aisling Beers.