Press Release:
For immediate release, February 26, 2009

Contact: Violette Malan, 613-272-3591
Scene of the Crime School Project: Creative Writing at Marysville School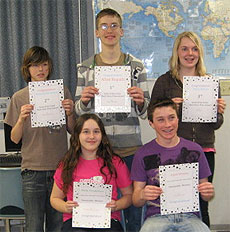 And the winners are: Back row, Brandon McIntyre, Allan Repath, Jenna Hulton. Front row, Molly Goodfellow, Adam Moodi
This January Scene of the Crime initiated what we hope will be the first of many creative writing projects for the Grade 7 and 8 class at Marysville Public School on Wolfe Island. Festival board members Violette Malan and Betty Doyle brought their writing and teaching expertise to Mr. Tom Richards' class for three ninety-minute sessions on how to plot, revise and polish short stories. Betty Doyle, who spent two additional sessions in the class, reports that "there was a great deal of enthusiasm for the project, and the kids worked very hard on their stories." "These stories were as good or better than some I've seen submitted to short story contests," added Violette Malan. And on that note, we're happy to announce that prizes were awarded to the top stories from the Marysville class:
First Prize of $25.00 went to Allan Repath, for "Billy Honcho"
Second Prize of $15.00 to Brandon McIntyre, for "The Hostage House"
Third Prize of $10.00 to Jenna Hulton, for "Too Late"
There were also two honourable mentions: Adam Moodie for "Phil's Hard Life" and Molly Goodfellow for "My Adventure on Earth". Adam and Molly received books as prizes.
And for the whole class to enjoy, Scene of the Crime also donated a small library of 16 crime and mystery books.