Scene of the Crime 2011

Another sell-out year, another great festival.
The 11th annual Wolfe Island Scene of the Crime Festival was held on August 13, 2011. It was once again a perfect day on the small rural island as more than a hundred eager mystery fans came over on the free ferry to participate in a full day of criminous activities.
The 2011 Grant Allen Award for contributions to Canadian crime writing went to Maureen Jennings, author of the hugely popular Murdoch mysteries set in Toronto circa 1890 as well as the contemporary Christine Morris series, and a new trilogy set in England during World War II. Joining Maureen on stage were authors Elizabeth Duncan, C.B. Forrest, R..J. Harlick, and Howard Shrier.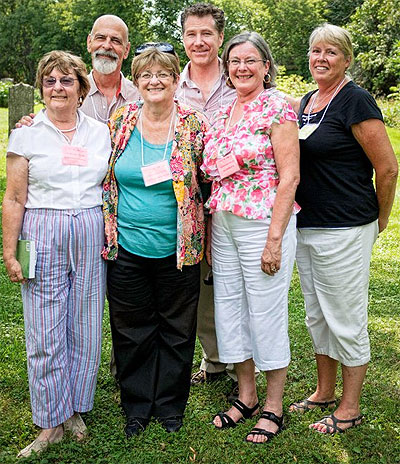 The 2011 author line up: Maureen Jennings, Howard Shrier, Elizabeth Duncan, C.B. Forrest, R.J. Harlick, Vicki Delany
The morning began with a coffee and muffin breakfast at the Island Grill where many of the festival attendees had the chance to mix with their favourite author. Another batch of festival-goers made their way to the public school for an intense workshop on writing believable antagonists, led by Vicki Delany. Everyone met up later at the UnitedChurch for readings by the guest authors and a delicious lunch. Fortunately the day was warm and sunny so those who wanted to do so could take their lunch outside on the lawns.
After lunch, it was a short walk to the Anglican Church (with a stop for free ice cream) for the afternoon programme. Vicki Delany moderated a discussion among all of the guest authors about how they in particular manage to write believable antagonists. Following the panel, this year's guest lecturer was Staff Sergeant Kristina Patterson of the Belleville Police Service whose topic was Tactical Survival: A police officer discusses keeping police officers safe. Not, as Vicki said in her introduction, "Keeping police officers straight." Kris's talk was funny and informative and questions could have gone on for much longer, but it was time for Board Member Chris Carr to present Maureen Jennings with the 2011 Grant Allen Award. Once again the beautiful award was a stained-glass kaleidoscope designed by WolfeIslandartist Linda Sutherland. Following the presentation, Maureen read from her new book, Season of Darkness, and was interviewed by the Kingston Whig-Standard's Greg Burliuk.
Then it was time to eat! We adjourned to St. Margaret's Hall for a delicious traditional church supper, and the presentation of the short story awards, when we heard a few words from third place winner Michael Januska.
Our sincere thanks to everyone for attending.
Registration for the 2012 Festival with Grant Allen Award winners The Lady's Killing Circle will be open shortly.