Top Canadian Crime Writers Attend Wolfe Island Festival

A Who's Who of Canada's hottest mystery authors was among the line-up for the 2005 Scene of the Crime Festival on Wolfe Island, Ont.
Topping the list at the Saturday, August 13, event was William Deverell, this year's recipient of the festival's Grant Allen Award honouring Canada's crime writing pioneers.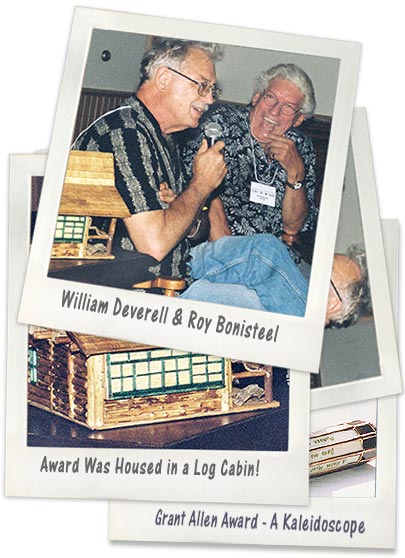 Formerly one of Vancouver's top criminal lawyers, Deverell's 26-year career as one of Canada's premier crime writers made him the unanimous pick for this year's award.
Deverell was the perfect choice, says Wayne Grady, chair of the award's organizing committee. "He has produced a consistently fine volume of work that has been recognized both in Canada and internationally -- and transcended the written page in one of Canada's first-ever, long-running television crime dramas."
The Grant Allen Award takes the form of a specially designed kaleidoscope, unique for each author honoured. The kaleidoscope was chosen as an award because of its unique place in the Victorian drawing rooms where Grant Allen's novels were popular. The award also includes a cash prize of $500.
Deverell was interviewed for festival-going fans by former CBC Television host Roy Bonisteel.
Also sharing the stage with Deverell was:
Award-winning writer Rick Mofina, author of the popular series of novels featuring San Francisco crime reporter Tom Reed and homicide detective Walt Sydowski. The Dying Hour, the first book in Mofina's new series with U.S. publisher Pinnacle Books, was released this summer across North America.
Picton author J.D. Carpenter also released a new book this summer, Bright's Kill, a Campbell Young mystery, with publisher Dundurn. Carpenter's first Campbell Young novel, The Devil in Me, was nominated for Canada's top crime writing award, the Arthur Ellis Award and appeared on the Globe and Mail's bestseller list.
Rick Gadziola is a semi-professional blackjack, backgammon, and poker champ who has combined his knowledge of the industry and the underworld of Las Vegas in Raw Deal, a compelling mystery nominated for an Arthur Ellis Award. The second book in the series, Freezeout, was released this summer.
H. Mel Malton's novels featuring amateur sleuth Polly Deacon have been short-listed for an Arthur Ellis. This was Mel's second visit to the festival.
Returning to the Scene of the Crime for the fourth time is writer Peter Sellers, winner of the prestigious Ellery Queen Readers Award and editor of the award-winning "Hard Boiled" series of Canadian anthologies.
Also on hand are Arthur Ellis-nominated crime writers Joan Boswell (who also has a new novel out this summer), Therese Greenwood, Caro Soles, and Michael Blair, award-winning nonfiction writer Wayne Grady, and short story contest organizer Violette Malan.
Full-day events also included:
A talk on rum-running in the Thousand Islands by author Bill Hunt, an expert in Prohibition-era tales and author of several best-selling books on the subject, including Booze, Boats and Billions;
A panel discussion moderated by retired broadcaster Roy Bonisteel;
A home-made lunch served up with Island hospitality;
All-new workshop for beginning writers;
Old-fashioned church supper with fresh-baked pie.
The Scene Of The Crime Festival was launched to honour Canada's first crime writer, Grant Allen, born at his family home on Wolfe Island, the manor of the Baron de Longueuil family. The first Canadian to write crime stories, Allen invented one of the most popular plot conceits of the genre. Allen went on to become one of the most prolific writers of the Victorian period and invented a plot staple, the thief who is actually the hero of the story.